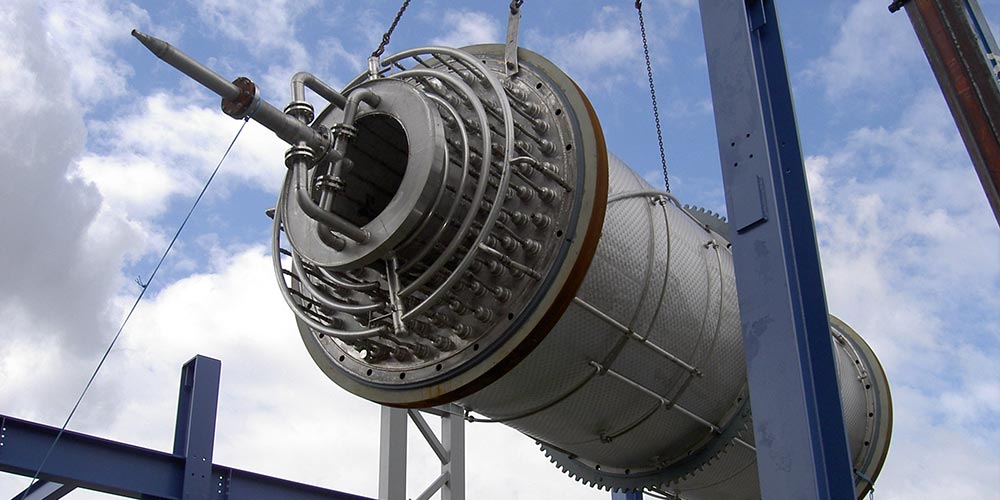 Drying with indirect drying principle
Torkapparater are specialists in the field of indirect heat transmission. Drying with indirect heat transmission implies that the heating medium is never in contact with the material to be processed. The heat transfer is generated through tubes and through the rotary perimeter of the dryer/cooler cylinder.
Some of the advantages in comparison to classic direct fired drying/cooling systems are the following:
Flexible selection of drying media - flue gases, hot off-gases, hot air, hot water and steam.
Excellent heat recovery - high ventilation dew point enables over 60% of heat recovery.
Cheap dust and smells as a result of a small ventilation flow.
Improved operation and control - automatic granulation can be achieved if so required.
Minimised risks for explosion.
Possibilities for recovery of solvents.
Drying with classic direct heat transfer technology
Hot gases e.g. flue gases or pre-heated air are examples of heating media that are in contact with the material to be dried. The hot gases transfer the heat to the material and also evacuate the diluted evaporated water and solvents, if applicable.
Torkapparater has large experience from the drying of biosolids and household waste. Rotary direct fired dryers is a robust and well functioning technique for most materials. We supply dryers with length x diameters of up to 5 x 25 m supplied with special internal lifting systems adapted to the material and process application for optimised heat transfer conditions.
Direct fired dryers contribute with:
Robust technology with relatively low investment costs.
Heating medium - hot gases.
Heat recovery is possible, but indirect systems generate better possibilities and higher temperatures.
Large gas flows implies more expensive equipment for dust and odour treatment.
Larger risks for over-temperature and fire implying constraints in safety systems etc.
Recovery drying and torrefaction 
Torkapparater has developed an indirect low temperatur dryer for heating media with low temperatures for e.g. biosolids pre-drying. Hot water with temperatures from 80 degree C (Celsius) and upwards is a possible heat source. Other heat sources may be other waste heat streams from industrial processes or recovered heat from our steam dryers generating e.g. two-step drying systems with very high thermal efficiency.
The two-step drying technology with two dryers in series where the pre-dryer uses recovered energy from the main-dryer becomes very interesting under the following conditions:
In many cases there are limited ways to otherwise dispose of the recovered heat
The material is easily dried
Limits in available primary heat
Ambitious environmental constraints
Partly frozen material
Vacuum drying
Torkapparater and ÅF have jointly made a research project with test drying of several types of sludges from the pulp- and paper industry. The results are very positive and show that vacuum drying is a very effective technique for difficult materials, e.g. industrial bio-sludges. Vacuum drying implies that the water is evaporated at low temperatures. Vacuum drying is suitable where large heat supply streams of approximately 80 degree C are available.
We continuously develop our drying technologies. We are happy to assist your company with any difficult material that you may have and would like to dry, preferably using indirect drying principles.